Sure it is only May, but let's be honest we all miss football.
If you are anything like me, you can't stand how soft concussions are making the NFL, but it is reality and it is only going to get worse. Perhaps the only positive is the necessary rule changes are making the play of your favorite team's quarterback more important than ever.
Since that is the case, I will be ranking the league's signal callers all season long. We will start now, continue at the end of preseason, and then re-rank  every four weeks and at season's end.
So without further adieu, your first ever Doodle Sports NFL Quarterback Power Rankings.
Aaron Rodgers, Green Bay Packers: The argument is simple. While there are players who have had better careers, A-Rod is in his prime and may be getting even better. A few more seasons, and #12 will overtake #4 as the greatest Packer signal caller of all time. Losing Greg Jennings shouldn't be a factor, as I can see Randall Cobb becoming the most dynamic offensive weapon in football.
Tom Brady, New England Patriots: I almost made Brady number one based on him crushing Giselle and football games. Destiny Newton is smoking hot, but Giselle is a super model. Also, I don't know another guy on the planet who could get away with representing Uggs like this. Losing Welker hurts, almost as bad as the injuries to Hernandez and Gronk. But I have to believe he will overcome, as usual.
Andrew Luck , Indianapolis Colts- Go ahead, talk shit. Try to tell me that this guy as a rookie, didn't do more for his team than any other player in football. Sure Chuck Strong was an inspiring story but the Colts made the playoffs on the back of Luck Strong. That's right Luck Strong, I just googled this and I think I invented a new slogan. I should make a T-shirt. If you think I wont be putting a wager at what I expect to be 12 to 1 on Luck winning league MVP next year, you are wrong!
Peyton Manning, Denver Broncos- I don't care how badly he finished the season against the Ravens. Anyone who watched the Broncos all season can tell you how much stronger Manning got as the season went on. Coming off a broken neck, he looked like this, by years end he was back to his old self. Oh, and now Welker will be catching 100 passes for him.
Drew Brees, New Orleans Saints: I think the Saints suck. I think Marques Colston is the most overrated receiver in football. And the running game in NOLA is embarrassing. Yet somehow, year after year, Brees puts up ungodly video game numbers. After 2013, Brees should have 50,000 yards and 350 touchdowns in his career. Amazing.
Eli Manning, New York Giants- This was a tough choice, I believe the top five are in another world, but Eli looks like a different guy the last few years. I mean, he still looks like Wayne Arnold from the Wonder Years, but he doesn't look like the sad puppy dog anymore. In fact he resembles a franchise quarterback. As long as Hakeem Nicks stays healthy and Victor Cruz shows up for camp the Giants should be dynamic through the air once again.
Matt Ryan, Atlanta Falcons- If I could, I would just exclude Ryan all together. I don't think there is a player in the NFL I dislike more. And don't get me started on his stupid nickname. I don't know what is "icy" about a 1-4 playoff record with seven interceptions. That said, Atlanta has some unreal weapons and there are far less questions about Ryan than some guys below him.
Ben Roethlisberger, Pittsburgh Steelers- If ever the offensive line could keep Big Ben upright, I think we would all be pleasantly surprised. You really can't downplay how much of a factor heart can be. Just ask Tim Tebow. If Roethlisberger and Todd Haley can get on the same page this should a bounce back year for the Steel City.
Colin Kaepernick, San Francisco 49ers- Yes he is raw. Yes he has some consistency issues. But Kaepernick is THE guy now. He gets all the first team reps, he gets to develop a connection with receivers not named Michael Crabtree, and the dude is just a bad man. Not to mention he has a fantastic coaching staff that knows how to use his talents.
Robert Griffin III, Washington Redskins- This could easily shift in either direction depending on his health come Week 1. When healthy, RG3 is the most dynamic dual threat quarterback playing. But if he loses the ability to outrun everyone on the field is how good will he be? I can't help but worry about a guy who has had multiple knee surgeries at such a young age. Redskins fans must be praying he RG3 has better luck than Joe Theismann.
Joe Flacco, Baltimore Ravens- Sure he won a Super Bowl. Still not buying in, not yet. Flacco has all the opportunity in the world to prove me wrong as the team is officially his now.
Tony Romo, Dallas Cowboys- The hate has gone too far in my opinion. I don't get it. Yea he makes some bad plays but think about the situation he is in. Jason Garrett is a moron. He has had a terrible line blocking for him, injury prone weapons around him, and a sociopath owner in Jerry Jones. All things considered, I think Romo is pretty impressive
Alex Smith, Kansas City Chiefs- I don't buy that Smith is a "game manager". I also don't think anyone outside of San Fran knew how good Kaepernick is. In the Andy Reid offense, Smith could really turn around the Chiefs fortunes.
Russell Wilson, Seattle Seahawks- Like Big Ben, Wilson brings a ton of heart to the table. His intangibles as publicized as they may be, are still underrated. Plus as height challenged person myself, I have a soft spot for Wilson.
Jay Cutler, Chicago Bears- I love this guy. I just think he loves himself too much. Unfortunately I don't think he can be effective on a regular basis. Gunslingers can't just change.
Josh Freeman, Tampa Bay Buccaneers- It is make or break for Freeman. He has two reliable receivers, a healthy line, a game changing running back, and finally a defense that shouldn't get torched every week. If Freeman has any amount of balls, he will come into training camp with a chip on his shoulder and try to earn that all important second contract.  If he plays the way he can, and has, I think he could end up easily in the top 10. As a Bucs fan I am praying I never have to see Mike Glennon start for Tampa Bay.
Matt Schaub, Houston Texans- I honestly thought Houston would draft a quarterback. If Schaub doesn't get this team deep in the playoffs I think they will be moving on by this time next year. And so might Gary Kubiak.
Mike Vick, Philadelphia Eagles- With Chip Kelly as his coach, I can't justify going any lower with Vick, even as a dog lover (fuck you scum bag). But with the injury history and the lack of public commitment to Vick, I can't justify going any higher.
Cam Newton, Carolina Panthers- The game has changed, and Superman is part of the reason why. I am not the type of person who gets hung up on "character issues". The list of immature guys who succeeded in the NFL is very long. Talent ultimately wins out more often than not. Just ask Tim Tebow.
Andy Dalton, Cincinnati Bengals- I don't like watching him play, but for some reason this guy is just solid. A.J. Green?
Matthew Stafford, Detroit Lions- IF this was a fantasy football ranking, Stafford would be much higher. Unfortunately for Lions fans it is not. You won't find any Stafford love coming from me any time soon.
Phillip Rivers, San Diego Chargers- Talk about a fall from grace. I bet A.J. Smith wishes he could go back in time and stick with Brees.
Sam Bradford, St. Louis Rams- Is this the year he puts it all together? I think so. But until then, Bradford stays down here.
Cristian Ponder, Minnesota Vikings- When you have Adrian Peterson in your backfield, you usually won't be asked to do much. It is hard to put him much higher than this, but Ponder doesn't lose games so that's a plus.
Ryan Tannehill, Miami Dolphins- I thought this guy was going to be terrible. I was wrong. But I think he is still a year or two away from where Miami thinks he is.
E.J Manuel, Buffalo Bills- I predicted him being the first quarterback taken in the 2013 draft last September. Having watched every game of his college career I understand what Manuel brings to the table. In my opinion he is a better, more talented player coming in than Kaepernick, Dalton, and Wilson were. The question is will he live up to his talent. Buffalo has a funny way of making players look bad.
Carson Palmer, Arizona Cardinals- He was actually much better than this ranking the last two seasons. But I just cant get on board with an Arizona quarterback. Maybe after I see a few games.
Jake Locker, Tennessee Titans- Wasn't a fan when he came in, and Locker has done nothing to change my mind.
Matt Flynn, Oakland Raiders- Is it crazy to think I can put him ahead of people even though he has never really played? Can't analyze what you haven't seen I guess.
Brandon Weeden, Cleveland Browns- Weeden showed flashes, but I think he is a game manager at best.
Tim Tebow- Unemployed- Seriously, as bad as he is, I believe he would play better than the guys below him if given the chance. But that really isn't saying much.
Blaine Gabbert, Jacksonville Jaguars- At least he is better than everyone on the Jets.
New York Jets Quarterbacks- I think Mark Sanchez was an overhyped media product. I think Geno Smith is an overhyped media product. Dave Garrard got pushed aside so Blaine Gabbert could play. Greg McElroy at least played at Alabama, those guys do ok in the NFL.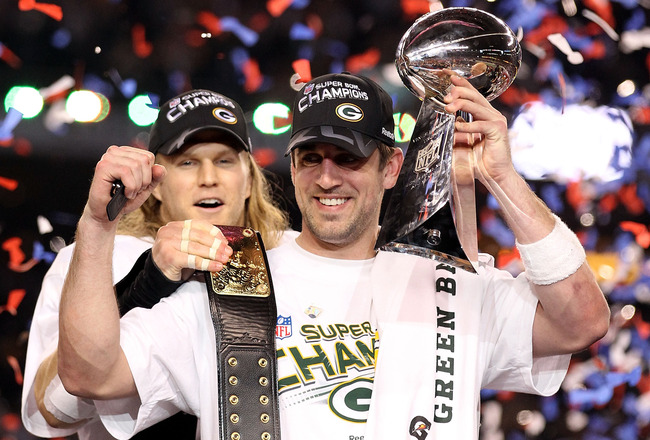 Comments
comments